Refrigerator Repair
Unlike other appliances, which are typically only in operation for brief period of time and are switched off between uses, we rely on our hard-working refrigerators around the clock to keep food fresh and safe. Our constant dependence on our fridges is what makes seeking prompt refrigerator repair so critical. Not only can a broken refrigerator cause a massive amount of food spoilage—it can also result in  property damage due to leaking and other operational problems. If you have noticed any recent change in your refrigerator's performance or observed undesirable behaviors, such as constant cycling or insufficient cooling, it is vital to contact a refrigerator repair professional as soon as possible. If you are located in or near Westchester County, please don't hesitate to call the team at Mamaroneck Appliance & Services if you have any reason to suspect that you're in need of refrigerator repair service.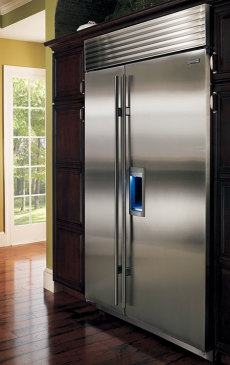 For the best results, refrigerator repairs should be completed by an experienced professional who has access to all of the top-quality refrigerator repair parts on the market and who is well versed in appliance diagnostics. So don't leave your fridge repairs in the hands of amateurs when our experts are only a phone call away! The Mamaroneck Appliance & Services team will approach each individual project with the same focus on strong craftsmanship and fast results, and we will always work with complete respect for you and your home so that you don't experience any collateral damages to your unit or surrounding property as a result of the refrigerator's repair service. Prompt attention from a professional could prevent a relatively minor issue from worsening, so put away that refrigerator repair manual and contact us today via e-mail or telephone to learn more about how our effective repairs can help promote a safe and productive living environment in your home.
Some common fridge ailments that can be solved with professional refrigerator repairs include:
Leaks
Built-in water and ice dispenser malfunctions
Cooling problems
Interior light problems
Clogged drains
And more!
In addition to providing basic refrigerator repair service, we are also able to perform work on other unit features, providing refrigerator freezer repairs and refrigerator ice maker repairs. Additionally, we have the skills to work on a wide range of makes and models, so whether you're in the market for GE refrigerator repair or Sub-Zero refrigerator repair, or even service for another brand, you can find what you need when you contact Mamaroneck Appliance & Services. Our versatility and dedication to precision make us the natural choice for all refrigeration repairs in the Westchester County area.
Refrigeration repair can save you a bundle over the cost of a replacement unit, so before you give up on your machine, give us a call or send us an e-mail. Our sincere dedication to our trade is evident with every project we undertake, and we pride ourselves on offering an amazing combination of quality customer service and affordable prices for your appliance repairs. Get started today: Contact Mamaroneck Appliance & Services, Inc. to set up an appointment for refrigerators repair service and so much more.

Mamaroneck Appliance & Services, Inc. is EPA certified to work with Freon, so you can rest assured that you're receiving precise, highly qualified refrigeration repair.
Refrigeration Repair
Refridgerator Repair
Refrigerators Repair